According to LinkedIn, four out of five of its members are involved in driving business decisions, with the platform's audience having twice the buying power of audiences who come from any other social platform or website.
But what happens when your posts aren't getting the reach, engagements or clicks, despite publishing quality content? Enter LinkedIn advertising, also known as LinkedIn Marketing Solutions.
Just by having a LinkedIn page, you will have access to the platform's campaign manager where you can take advantage of its advertising tools to give your content a boost and help it be seen by the right people.
Whether you're getting to know more about social media marketing, or have already dabbled in advertising and now thinking of including LinkedIn advertising in your strategy, join me to get to know some of the benefits of LinkedIn advertising and how you can leverage it.
Optimise for your unique goals
Much like other social media advertising tools, LinkedIn campaign manager allows you to optimise your ads or boosted posts for a target objective. The benefit of this is that you're essentially only going to be paying for the result you want. This is split into three phases: awareness, consideration, and conversions.
The first, and arguably most important, step is to determine what action you'd like your target audience to take. This could be clicking through to a specific website landing page, watching a branded video, downloading a whitepaper, or making a purchase, to name a few. Once you've done this, you can choose the most relevant objective for your campaign to be optimised for.
Our top tip when choosing an objective is to consider where your audience sits in your marketing funnel. For example, it may be tempting to jump right in with a website conversions campaign, but if your customers don't know who you are, you should consider a website visits campaign instead to build further awareness first. This lets you take them through the from awareness stage to conversion without the risk of wasted budget or time.

Advanced targeting metrics
Once you've picked an objective to optimise for, it's time to reap the benefits of LinkedIn's advanced targeting metrics. One of the reasons B2B businesses in particular find LinkedIn ads so effective compared to other social channels is because of its unique targeting, specifically designed to enable you to reach the right professionals, wherever your chosen location.
Through the audience attributes section, you can access company, demographic, education and job experience criteria. What makes it so effective is that you can drill right down into one specific audience – for example, CEOs in Leeds who work at companies with over 500 employees in the construction sector.
Other targeting benefits you can tap into include list uploads, retargeting and lookalike audiences. For list uploads, you can upload a selection of contacts from a spreadsheet and LinkedIn's algorithm will match as many as possible to find a contact's LinkedIn profile. The more information you have on a person, the more likely it will be able to match a profile.
If you've already driven a large amount of traffic to your website, you can use retargeting to find these people on LinkedIn and serve your ads to these people again. This is perfect for taking them further down the funnel, through from the consideration to conversion stage. It's also effective for introducing new products and services to someone who is already aware of your business.
As for lookalike audiences, after choosing a list upload or website audience, LinkedIn will serve your ad to those who are similar to people in that chosen audience. The benefits seem endless when it comes to LinkedIn's range of highly targeted audience metrics.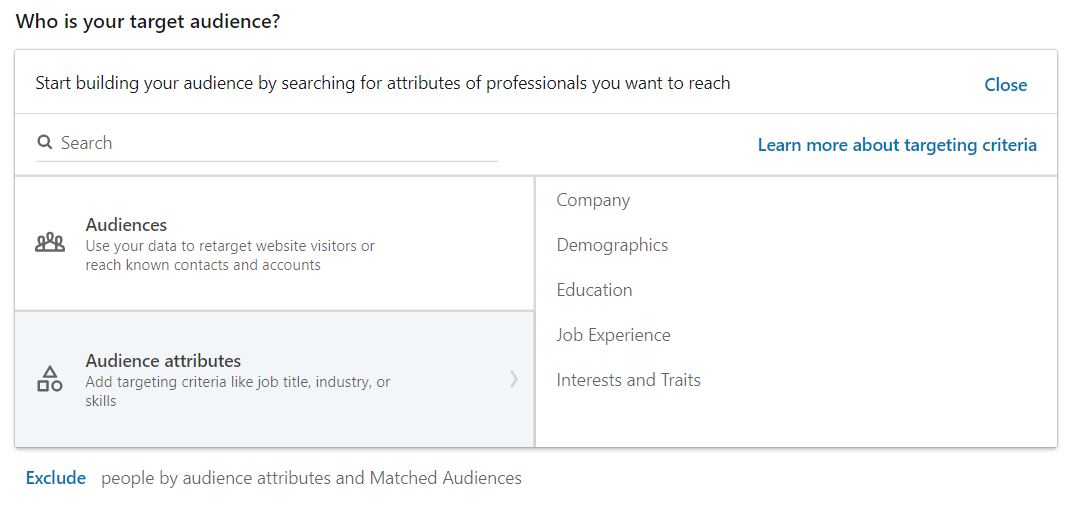 Testing ad formats
While you have the standard options of a single image or video ad, just as you'd use on your organic feed, there are other formats you can take advantage of, such as a carousel, text, spotlight, message, conversation or event ad.
The real benefit here is being able to do A/B testing using multiple ad types to determine which format is more effective. LinkedIn's algorithm will recognise what ad is giving you the best results, after which point you can switch ads on or off so that only the one with the best results are being served.
This is great for taking out the guess work and can be beneficial in informing your organic social strategy as well. It can be surprising what your audience engages with, so be sure not to skip this step: test, test and test again!

Analysing results
Want full visibility on your ad performance? You've got it! When your ad is live, results can be accessed through campaign manager, with columns that you can customised to see exactly what you want.
While I still recommend complementing this data with Google Analytics when it comes to reporting to get further insight, you will still get a very clear understanding of how your budget is being spent and whether tweaks need to be made to your campaign. You'll be able to see what the ad reach, cost per click, engagement statistics, how many times on average your audience has seen your ad, and much more.
For lead generation or purchases, my favourite analytics measurement (yes, I have a favourite) is the conversions column. This is because you can see the journey of how many people clicked through to your page from the ad, clicked on a register or purchase button, and how many actually completed the registration or purchase, all thanks to the pre-installed LinkedIn insight tag.
Looking at these numbers can quickly tell you if changes need to be made. For example, if 150 people initiated the checkout/registration process, but only five people completed, there could be something that needs changing on-site or to the service being offered.
So there you have it, just some of the many benefits of LinkedIn advertising! If you'd like to start taking advantage of LinkedIn Marketing Solutions, get in touch with us to see how we can help take your social media marketing strategy to the next level.
At Brand8 PR, we have extensive experience in devising organic and paid social media marketing strategies that drive engagement, inform purchasing decisions and boost brand awareness. Find out how we can help generate high-quality social media content and ads for your brand by contacting our social media manager Emily on t: 07939 374 364 or e: emily.neilsen@brand8pr.com