Written by Josh Westerman
As social media takes a firm grip on the way brands digitally market their products it's becoming increasingly important to understand the principles of a social post and how to implement them effectively so your content is a cut above the rest.
There are an estimated 3.2 billion daily users active on social media, equal to about 42 per cent of the population, trawling through viral videos, friends 'perfect' holiday snaps and the constant beratement of memes (honestly, one does not simply love memes). So, the challenge of creating content that stands out from the feed, represents brand identity and connects with your target audience is no walk in the park.
I've looked at the key things to focus on when creating a social media post for any platform, and which aspect of publishing social content is arguably the most important – if there is one.
Imagery
While we mostly consider social media about being "social", the reality is that the first thing stopping people in their digital tracks is visuals. Something that captures the eye and relates a message from the brain into the fingers to say "stop scrolling!"
For instance, think about Instagram or Facebook. The whole ethos of publishing is about seeing things we like before we begin to completely engage, and vice versa. If we see something we don't like, we scroll away quicker than fake news circulates. This makes images an extremely important element of any post, BUT are they the most important?
A brilliant example of imagery can be seen by Innocent drinks. Its 'Bolt From The Blue' campaign posts, like the example above, hook you in with an almost intrusive and glowing bluey green. It's enough to break up anyone's social feed. It's also worthy to note that the image retains the brands tone of voice and design.
Engaging Copy
Now you've got someone's attention, it's time for the "social" part – words. You need to ensure your written social content is high quality – some of the main things that make social users stay away are spelling mistakes, grammatical errors, confusing long sentences and even using the wrong words.
The copy is also the place to showcase your brand's personality. Connecting with your audience through words that convey an emotion and spark their curiosity is important to show who you are and what you stand for. This means your choice of words… is kind of a big deal.
But if the main objective of your copy is to get people to click through into your website a top tip is to make sure to include a call to action on your post and funnel your audience right where you want them.
Another great way of boosting interaction is by using some of built-in posting features. Here Chipotle used the poll feature and some well thought out humorous copy to create something which was nearly impossible not to interact with.
Planning
A good social plan with key objectives and targets, provides a solid foundation for any social media strategy – to steal a phrase from Benjamin Franklin "by failing to prepare, you are preparing to fail".
Like any plan, it prevents unnecessary hassle and last-minute panic, and allows you to take two steps back and gaze upon the bigger picture, and keeps everyone in your team singing from the same hymn sheet.
The good news is that pulling together a social media plan for your content will provide a clear understanding of what style of content you want to be publishing, who you want to be reaching, when you're going to post and where you want to be in the future.
Although it can initially feel like a long and arduous task, the benefits are tenfold – there won't be a 30-minute stare off with your phone screen wondering what Instagram caption to use. Does this make it the most important aspect when taking on social media then? Possibly.
Engagement
Another aspect, much like engaging copy, which maybe not regarded as an important element of a social posts is community engagement. This is where you can get real, actionable results. Although for this to work all of the above factors have to be done well, engaging on your posts is how you grow your know, like and trust factor with your followers – the simple act of replying to or answering comments on your posts can attract people to your brand and help build your supporters. It's also another opportunity to publicly show your brands personality through each engagement.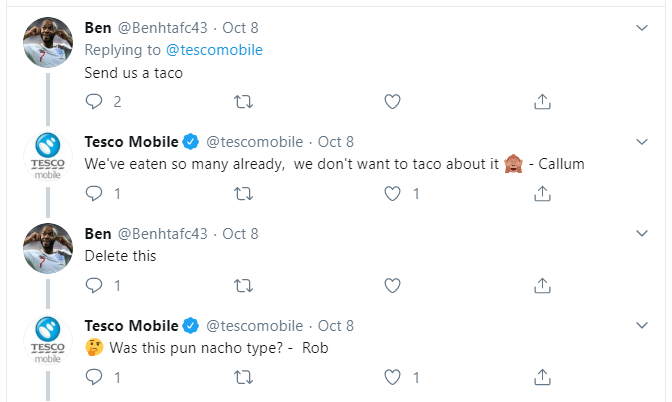 Tesco Mobile's approach to engagement has seen the brand grow dramatically over the past years and regular go viral in the UK as a result of its quick wit. As you can see above it's a perfect example of displaying brand personality when it comes to interacting with customers.
To further the brand's social presence, the #TMFollowChallange was introduced to push people into asking for a follow back. Tesco Mobile would then create a completely random challenge and await the response.
The reason why this is valuable for any social post is that it builds relationships with current and potential customers – followers want to talk to the people behind the account rather than the brand. Another bonus is that you can use this as a way of market research into your audience. Pay attention and see how customers react to specific posts too, as this can help direct your social strategy moving forward.
So, what is the most important part of a social media post then?
The most important part of a social media post isn't just one thing – but all the above-mentioned aspects, that when brought together and combined, speak volumes and connect instantly with your audience.
So, does that mean it's possible to have the best images, best copy, to have planned everything to a tee and engage with customers on everything you post but still reap the rewards? Honestly yes. If you have a clear, concise strategy and solid understanding of your audience then there shouldn't be any reason you won't be on your way to success.
At Brand8, we've got extensive expert knowledge in developing, implementing and maintaining social media strategies for a wide range of clients. So, get in touch today on 0113 394 4580, or drop me an email on todd.duncan@brand8pr.com and we can discuss how we can grow your brand together.