Written by Josh Westerman
Football, it's a funny old game. Images of mud-coated players, threadbare pitches and leather-bound boots and balls are all conjured up when you think of the history of the game. Straight-talking players like Norman "Bite Yer Legs" Hunter, "Psycho" Stuart Pearce and Vinnie "He's An Absolute Nutter" Jones were the norm, and the idea of giving fans a glimpse into the player's lives and behind the scenes was non-existent. That's how football was.
But the modern game is different. The traditional 4-4-2 has been ditched in favour of the more expressive and expansive 4-2-3-1 or 3-3-1-3, influences from around the world are inspiring how our teams are playing, and the impetus on how kits and boots look is more important than ever – the athlete has become the aesthete. Technology too has become essential, with stats, analysis and video footage being an integral part of the game
This rise in change goes hand in hand with the sky-rocketing of another phenomenon in the game – social media. Players, clubs and fans alike are all now sharing content across social channels, creating a new way to engage and interact with one another.
Clubs using social to play others off the park 
For all football teams, social media has become a new tool for editorial and advertorial content, promoting any deals or offers from commercial point of few and letting fans know about the latest interviews with the players. But recently, the use of social has been upped, offering a new experience for the fans.
Take my team, Leeds United, as an example. In the build-up to a recent game against Queen Park Rangers (QPR), the club's social team posted video content on the following:
A video of walking into Loftus Road (QPR's ground) and a brief tour
A video of the players arriving at the ground
A video of the players warming-up
These short videos give the fans something they've never had before – an insight into what being part of a professional football team is like. This form of content gives the fans something to interact with, whether they just watch it or comment with "MOT ALAW WACCOE" (one for the Leeds fans, that). Social imagery with key lines from interviews has become the norm too.
But it isn't just the fans who the social media team at Leeds is interacting with. A recent post by Neil Ruddock referring to the club as "diiiirrrrty LUFC" was picked up on, with Leeds providing a scathing reply to highlight a game where 'Razor' had a mare against the Whites, being sent off and being at fault for two goals. It's this reactive social content that fans absolutely love and creates a buzz across the channels.
Amidst the recent "Spygate" saga, where the club was found spying on the opposition's training before matches, Leeds became a target on social media for brands and other teams. But this actually just created great social content for all those involved – it was the use of social media at its best.
Pizza Hut thought it was a good idea to take the mickey, but the Leeds social media team handled the situation, well, savagely: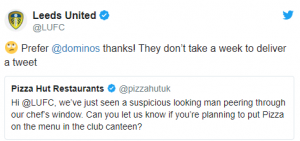 Crystal Palace, a team not even in the same league as Leeds, got in on the action too, with an espionage-influenced post – see if you can spot Leeds manager Marcelo Bielsa looking on: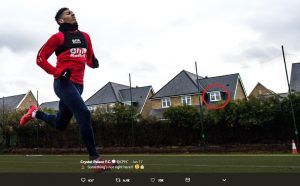 Player power on social media
At times fairly and at other times very unfairly, players are often berated for their use of social media. But why should they be? Yes, ill-timed posts about cars or nights out after a heavy defeat can cause uproar, but through the content they are posting, they're using the traditional idea of the interview, where fans could get an insight into a player's life, and taking it to the next level. Through using social media, players can inspire and influence the next generation of players and showcase a lighter side of the game.
Arguably one of the most influential players using social media is the enigmatic Paul Pogba. Love him or loathe him, on his day not only is the Frenchman a midfield maestro pulling the strings for Manchester United, but also a kingpin of the social scene, posting to his 33.4m and 6.5m followers on Instagram and Twitter respectively. Pogba has received a lot of stick for this off-field antics and use of social media from ex-pros (we're looking at you, Graeme Souness) but what he's fantastic at is offering fans an insight to his life outside of football and giving them a glimpse into the camaraderie of the dressing room.
Through his posting, he's offering his followers the opportunity to interact with Paul Pogba the player, and Paul Pogba the brand. After a recent win at Newcastle United, where Pogba was subject to a rather debatable tackle, he took to Twitter to toast the victory.
His post highlights the fact that Man United won the game (something that the fans will appreciate) but also offers the chance for his followers to engage with him through giving a reply to his use of "caption this". This brings the fans that little bit closer to their footballing hero, all through a simple post on social media.
However, footballers posting on social media doesn't always go down well, with Kyle Walker being the best example of this. Walker's humorous use of video content and imagery to mock himself and his teammates has made him a star of social media, but a tweet earlier this year landed him in a spot of bother.
In December 2018, Liverpool had amounted a huge lead at the top of the Premier League. But after a tricky start to 2019, Manchester City began to claw back points and reduce the gap – none more so than when Liverpool drew 1-1 with Leicester City at home, dropping two points in the process. Leicester's goal scorer, Harry Maguire, became a national hero thanks to his role in England's World Cup campaign, and it was he who scored Leicester's goal. Cue a meme-based tweet from Walker, using an image of Maguire and mocking Liverpool in the process.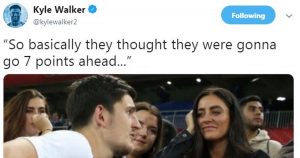 Some fans thought it was a masterstroke, for others a huge show of arrogance and disrespect for Liverpool. The Reds were still top of the league, and Walker's tweet was seen as mocking Liverpool's inability to defeat Leicester. After a backlash from fans and media outlets (as well as Liverpool manager Jurgen Klopp), the tweet was hastily deleted. But Walker has previous in this, deleting a post mocking Manchester United after winning the derby game in November.
Although this is a minority, the need for players to be aware and considerate about what they are posting is key, as it can damage both the reputation of themselves and their club.
A new way of making announcements
Over the years, there have been some weird and wonderful ways for football clubs to make big announcements on new players or managers. Think of the iconic images of Geordie hero Alan Shearer being unveiled at Newcastle back in 1996, Bryan Robson's bizarre "half suit, half playing kit" managerial appointment at Middlesbrough, or the noisy neighbour Manchester City's announcement of beating Manchester United to signing of Carlos Tevez through a 'rubbing salt in the wound' billboard.
But in the golden era of social media, these announcements have been taken to a completely new level to engage fans and create a viral buzz.
Take the transfer of Peter Crouch to Burnley during the January transfer window. Crouchy is known for two things: having a good touch for a big man and being a bit of a character on and off the field. Just follow his Twitter account to get a flavour of what he's like, or watch the videos of him being caught in the melee of a moshpit at a Kasabian gig. But if there's one thing Crouch is probably most famed for (no, not being married to Abbie Clancy), it's the robot celebration he pulled out in the warm-up games for the 2006 FIFA World Cup.
It's a celebration that's followed Crouch around ever since he threw the shapes and was the perfect inspiration for a video to announce his latest transfer.
The premise is simple. Burnley took something affiliated with Crouch – a toy robot – and captured it arriving into the club's training ground. Then to tie in the transfer, the robot is knocked over by a ball and guess who played the pass? Bingo, Peter Crouch. The video was a huge hit for, well, a huge player, gaining engagement and interaction not only on social media, but in the media too.
But the most bizarre recent transfer video has to go to Leyton Orient and the announcement of Jay Simpson. After a three-year stint at The O's from 2014-2017, Simpson left for Philadelphia Union, but in February 2019 it was announced he was set to return and pull on the famed red shirt once again. How do you announce such a re-signing – a press conference, interviews with the media, an open day at the ground?
Well, it's safe to say Leyton Orient went completely leftfield on this one. The club took the opening credits of The Simpsons and superimposed the face of Jay Simpson on every member of the Simpson family.
It's so weird that it's absolutely brilliant. A non-league team creating visual content that goes viral is promotion-worthy on its own!
The final whistle
Social media has become the norm in modern-day football, with content being used to engage and interact with those who love the game. To steal a phrase, the use of social media by football clubs is helping create "top bantz" for the fans. And after all, the game wouldn't exist without the fans who loyally follow and support their team, so surely social media in football isn't such a bad thing after all?