Written by Josh Westerman
As The Bangles famously sang, we should walk like an Egyptian – but should we be thinking like them too when it comes to how we tackle content marketing?
Built to celebrate the lives of pharaohs and queens, pyramids were a symbol of celebrating strength and power. Yet this iconic structure's shape and ideology can be used on your content strategy, through adopting a hierarchical approach.
By starting with a strong sturdy base and building up to the top for added support, you can have a content offering which brings with it both strength and power in its performance.
Follow the oil paintings in the old tombs and do the sand dance (don't you know) to improve the competitiveness and bolster the rankings of your content output through this pyramid approach, based on the latest insights from Moz. If I've moved too quick (oh whey oh), I've included a visual breakdown of how the hierarchical system should work below. The bottom layer will help with rankings and the upper tiers with your competitiveness.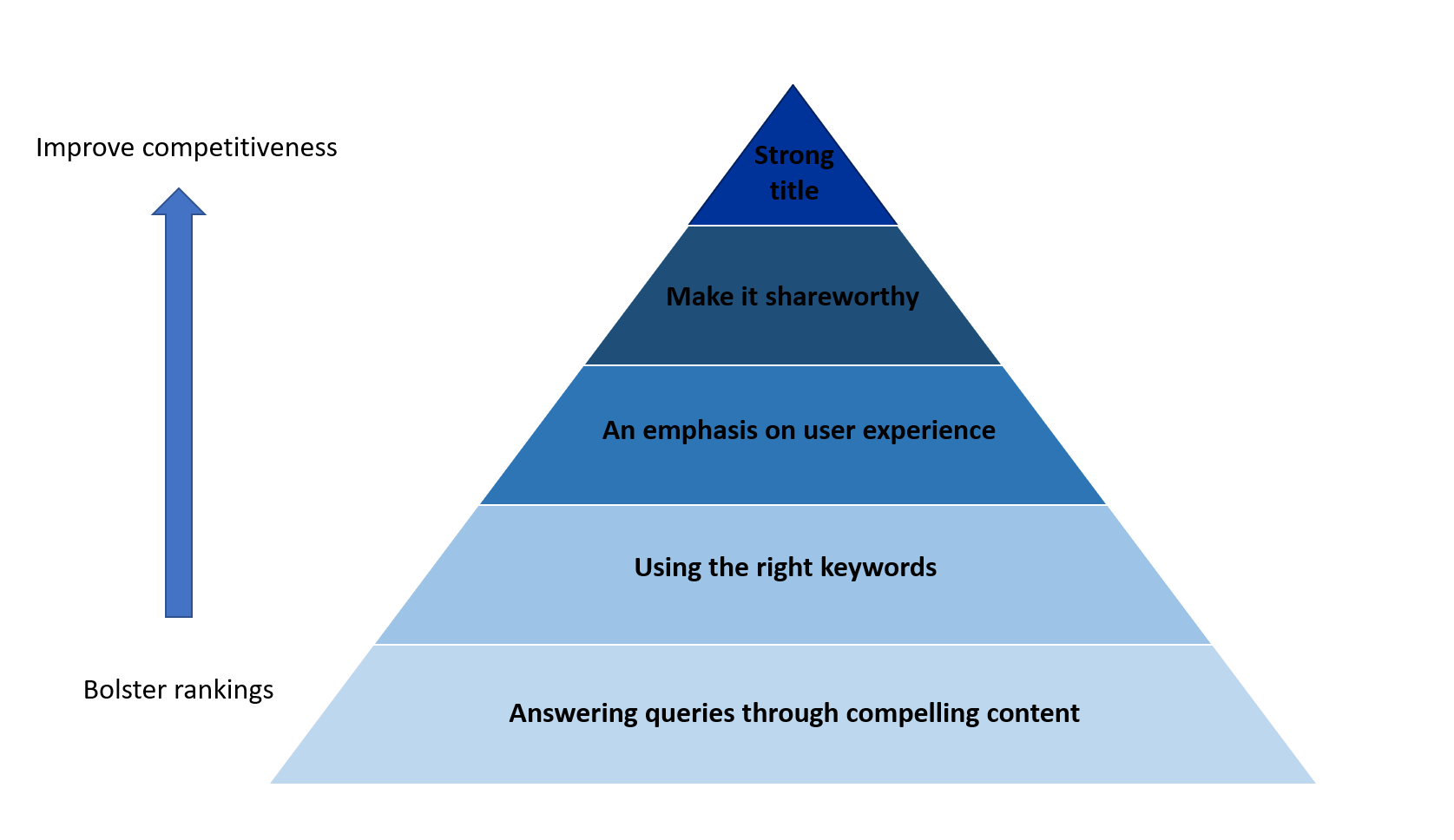 The base: Answering queries through compelling content
An essential factor in Google rankings, you need to be creating content that can help give the user an answer they are looking for. Without offering any insights into a subject or area which could be of value to an audience, you won't be seen as an authoritative voice within your intended space – you need to be seen as an expert to help inspire, inform and instruct user behaviour.
But alongside having all the answers, your content must be of a high-enough quality to make an audience engage with it. With more importance than ever being place on the excellence of articles, you need to approach your words and visuals in the most compelling way possible.
Using the right keywords
As well as being compelling, your content needs to be well optimised to ensure it's best placed to be competitive and rank well within search results. This isn't about shoe-horning phrases in or using old-hack methods of writing keywords at the bottom of a page in white text – it's about naturally including relevant, high volume terms to add value to the piece from both quality and performance perspectives.
For example, if you're writing a piece about 'how to walk like an Egyptian' (as per The Bangles' famed music video), consider the terms users will be searching for within Google to get an answer to this query. Make sure you're using keyword tools to include the highest-ranking terms associated to this query too.
An emphasis on user experience
At the heart of your content has to be how your audience engages with it. A poorly structured and built web article will give your reader an experience as bad as a Manic Monday. You need to make your content as accessible and readable as possible to ensure your audience can navigate and get the answers they are looking for. Elements such as fast load-up speeds, ease of use (i.e. a simple structure where key information can be retrieved without hassle) and having the pages optimised for mobile all play a key role in benefiting the user experience.
Make it shareworthy
For your content to be seen through the Hazy Shade of Winter, it needs to make your audience want to share it. For a user to share an article with another speaks volumes for your content – they see it as a trustworthy, reliable source and would happily recommend it to someone to gain knowledge from.
An example of how this could work is as follows:
Me: "The Bangles are the greatest band of all time!"
You: "No, they aren't"
Me: "Oh really? We'll read this piece of why The Bangles are brilliant, this will change your mind!"
You: *Reads article*
"Oh yeah, they are the best! Susanna Hoffs is the greatest!"
*Shares article with next unsuspecting Bangles doubter*
But it isn't just users sharing your content through social media which can help make it more competitive. Other brands, influencers and publications citing your work within their own articles adds authority to your voice and can help make you stand out from the crowd. These inbound links can also help bolster your rankings in Google.
The tip of the pyramid: A title to draw clicks  
The icing on your competitive content cake. Once you've got your compelling, shareworthy body content, nailing the title is imperative to making your article or blogs competitive. A good rule of thumb would be to think to yourself "would this headline make me A) read the article and B) trust this as a reliable source of information?". You need to be able entice an audience in, without making it seem as if your article is just a piece of clickbait content.
Your URL and meta description can also play a huge role here too. If you've got a long URL slug, look to shorten it down so it's more digestible and understandable for users, whilst a well-optimised description can also help your content burn like an Eternal Flame at the top of the rankings.
Content that performs as well as a Jet Fighter
Through adopting a pyramid approach, you can create content that is not only compelling, but also answers queries, aids user experience and encourages wider amplification.
If you're looking for advice on how best to tackle your content strategy, get in touch with me today at josh.westerman@brand8pr.com, or drop me a call on +44 (0) 113 394 4582 or +44 (0) 7432 65540.