"Troll! In the dungeons!" Okay, so we're not talking those kind of trolls – sorry Harry Potter fans. We mean disgruntled customers who have unleashed on social media in a bid to get attention from your business, often to resolve an issue they have experienced in relation to your service.
While sometimes their reaction may seem disproportionate or irrational when compared to their actual experience, what tipped them over the edge may well come down to the way they were communicated with.
I've shared my five top tips on how to manage your community on social media to ensure your customers don't wind up going full troll-mode on a regular basis. Knowing when and how to engage with them is key for reputation management, while ensuring your community management strategy supports your overall customer service process. It has less to do with magic and more to do with being human (or a muggle, if those Harry Potter fans are still reading this).
Maximise efficiency through monitoring tools
If your business has multiple social media channels, trying to keep track of customers across them all can become tricky without having the right processes in place. This can be particularly difficult for businesses with a large number of followers across the accounts.
To streamline and maximise efficiency, monitoring tools should be your go-to, and there are plenty out there suited to different needs. For example, Mention will do the listening for you, but the best bang for your buck, no matter the size of your business, is to use a robust social media platform such as Sprout Social and Falcon.io, to name a few. You'll feel like a wizard being able to monitor complaints, schedule posts, access reporting and much more all in the one place.
Some of the key benefits of using these social monitoring tools are you can create custom tags, assign leave internal notes on comments and messages, mark complaints as resolved or unresolved, and see the conversation history all in the one inbox.
Make it personal
When you're communicating behind a screen, it can be easy to forget that there's a human on the other side. Responding with empathy and reminding your customers that you're human is key to achieving a personal, yet professional, connection.
No matter the language used by the customer or how frustrated you may also be by the situation, it's important to ensure you're still using your company's tone of voice and responding in a friendly manner. After all, responding in an equally hostile way will only serve to add fuel to the fire, and potentially make your customer even more disgruntled (troll alert!).
Just remember, anything you say on social can be screenshot and shared, so be thoughtful and considered in the way that you communicate!
Act fast
While we've all been taught that slow and steady wins the race, this is certainly not the case when it comes to angry customers on social media. It's common that your customers will assume someone is manning your business social media channels 24/7. If they don't receive a response in what they think is an acceptable amount of time, there is a risk that they will start to troll your pages by spamming your posts with their complaints. Here's a few handy steps to avoid this:
Turn alerts on
Always double-check you're receiving notifications. You can do this through your social media monitoring tools or through the social channels directly. If you know you won't have the social pages open all day long, turning on email notifications is the best way to ensure you don't miss a message. Just make sure you have access to the email the channel was created with or set up email forwarding, so you don't miss a thing!
Use holding messages
Having an approved blanket holding message to use in cases where you need to look into what the customer is complaining about can be handy to buy yourself some extra response time. By doing this, it also puts them slightly at ease showing you're on top of the situation and they're being looked after.
It can be as easy as introducing yourself and asking the customer for some more information or contact details, or simply thanking them for getting in touch and letting them know that you're looking into their complaint and will be in touch as soon as possible. This form of acknowledgement informs them that you're taking action and, most importantly, taking them seriously.
In a similar vein, if your customer has been waiting over a day or more, get back in touch to provide an update. This will avoid any frustration from them by waiting too long.
Set automated responses
Buy yourself time by setting up personalised automated responses through Facebook. By doing this, it will send out your pre-set automated message as soon as someone direct messages (DM) you, or at any chosen time you select. Having this enabled can also essentially automate your holding response.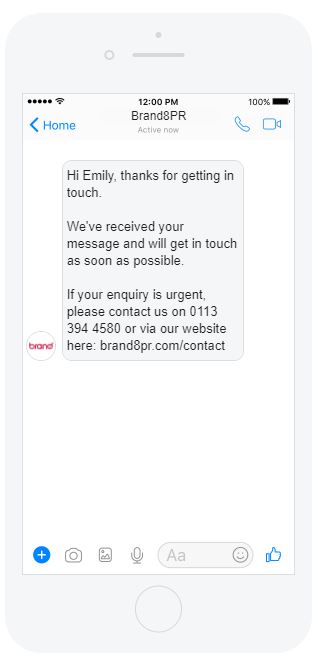 Hiding won't solve anything
Simply hiding a customer's negative comment won't make the situation go away. In fact, this can often make the situation worse, as if the customer notices and gets angry it's likely they'll have no problem calling you out on social media by continuing to post or taking it to review websites like Trustpilot and Yelp.
Of course, there are exceptions to the rule, for example bad language, violating the rules of your page, or if the customer has started to spam all your pages despite having done everything possible to resolve their issues…aka they've become a troll.
If a customer has commented publicly, you should always try to move the conversion to a direct message, but also respond publicly by letting them know you've sent them a DM so anyone who sees their comment can see your business is actively trying to help the customer.
Direct away from social
As much as it's important to have strong customer service on social media, it's also critical to ensure your customers don't think it's the place they should be going to complain. You've likely seen it before on company pages, with customers talking to each other saying something along the lines of "just complain on social media, it worked for me. Don't give up!"
To ensure social media doesn't become their go-to, first ensure that you have an appropriate complaints procedure in place, whether it be on your website, email or phone. Next, ensure you always check whether they have already attempted to make contact through your complaints procedure, which you can remind the customer is the best channel to use to ensure they get the right help.
If they haven't, this gives you the opportunity to direct away from social media. If they have, then take their contact details so that the customer service team can contact them directly, rather than responding on social media.
An efficient, personal approach to managing customer complaints
Engaging with disgruntled customers takes time, but it has a big impact on your reputation as a business. It's always worth taking the necessary steps to ensure your customer service extends all the way through to your social channels.
At Brand8 PR, we have extensive experience in managing customers and brand reputation on social media and PR. Find out how we can help you by contacting our social media manager Emily on t: 07939 374 364 or e: emily.neilsen@brand8pr.com.