Written by Josh Westerman
In case you missed it, Leeds United has finally made it back to big time after 16 long years in the wilderness. With Ben White at the back and Bamford in attack, each element of the team's tactics enabled Marcelo Bielsa's men to beat off the competition and claim that elusive top spot in the Championship.
But I'm not here to talk about football. Instead, I want to show how you can take this ideology of being better than the rest to make your content competitive and perform how you want it to.
There are similarities between the Championship and Google ranking – it's a dogfight between the best of the best to get the top spot, you've got to put in the hard work to become number one and understanding the strengths and weaknesses of your competition almost always stands you in good stead.
So, which are the key areas you need to consider when creating a competitive content strategy that will meet the needs of your audience and enable strong rankings?
1. Taking on the right brands in the right space
As the old idiom goes, choose one's battles wisely. As a brand, your associated expertise isn't infinite, so you need to take this into consideration when devising your content strategy.
This ideology works in two ways. Firstly, you need to focus on the themes and topics that your intended audience will be actively searching – this immediately puts you in a rankings battle with your competitors. You need your content to be more informative and engaging than that of others within your field, so hitting the right topics for the right audience is key.
On the flip side, you shouldn't stray off into subjects which sit out of your realm of expertise. Tenuous links between brand and subject matter should be avoided at all costs and are most likely to turn audiences away – for example, you wouldn't catch a law firm talking about Leeds United's championship-winning season, nor would you Leeds United discussing regulatory compliance.
There is no need to go toe-to-toe with those outside your brand expertise, so focus your efforts on challenging your competitors.
2. Target the right keywords
For your content to top the charts, you need to use appropriate and relevant keywords that your audience will be searching for. The reality of "winning" search terms which have exceedingly high volumes is slim, so you need to look further afield.
Rather than opting for the standard keywords, outwit your competitors through feeding your content strategy with longtail keywords to meet the exact search requirements if your intended audience.
Let's take Leeds United's magician in the middle, Pablo Hernandez. If you want to find out which clubs El Mago has played for, you might search "Pablo Hernandez clubs", which returns the following results: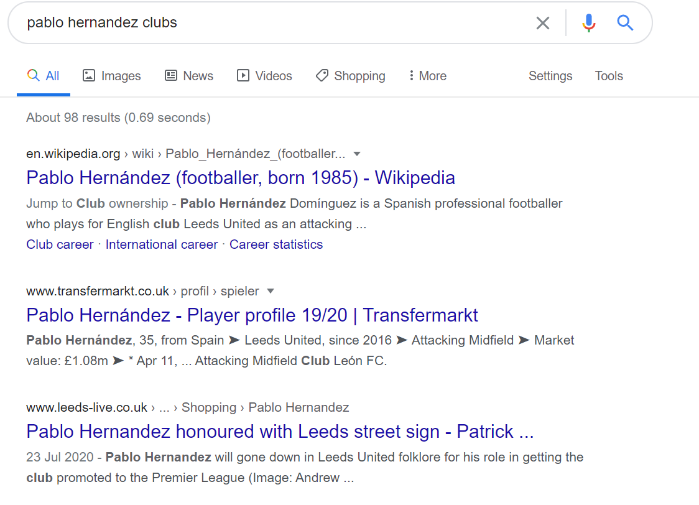 However, with a more descriptive longtail keyword, such as "which clubs has Pablo Hernandez played for" to get a far more defined answer to your query in the form of a featured snippet.
In this example, a more defined search from the user has brought the exact answer they want – and this is a proven model across all topics, themes and industries. So, when it comes to creating content which will bring the intended results for your audience, adopting a specific longtail approach to keywords instantly adds value to your brand.
3. Give the people what they want
To achieve that best-in-class status, you also need to understand the demands of your audience. If a user is looking for the answer a specific query, chances are they won't want to read the answers to other queries.
If someone wants to know who played in goal for Leeds United during its title-winning season, they're likely to be less interested in who played in goal for Leeds United during the previous 16 years of failure. Nailing your content to give the best answer to who played in goal during the 2019/20 season is giving your user just what they want.
Yes, you might want to cover several queries in one piece of longform content (reverting back to the aforementioned LUFC analogy in a guide on the 2019/20 season, you might look at who played in goal, defence, midfield and attack). In this case, by using the correct heading labels, page structure and keywords, you can still create definitive answers to meet a user's search intent.
4. To be the best, you gotta beat the best!
After a falling at the final hurdle last season, Leeds United's managing director stated on the Amazon Prime documentary Take Us Home: "We're not d*cking around with the play-offs next season". The sentiment behind it was not accepting a second or third-place finish, but about being better than the rest and finishing in top spot – and this idea can be used when it comes to creating content, you want that number one spot in the rankings.
The importance of having quality content is well documented – not only does it help you from a search perspective, it's also a hugely important factor in getting your audience to digest what you're putting out there.  To reiterate a sentiment with has long done the rounds, there is not point of creating content purely for the sake of creating content.
It's all about the editorial value of your content. Think like a media outlet and devise content which is of a high quality, offers in-depth insight and is easy for users to access, engage and interact with – this is something Brand8 PR champions and actions across all of our clients.
By taking this editorial-standard approach, you can really transform your content offering and take the fight to those currently winning the rankings battle to truly become best-in-class.
Curating a content strategy which enables competitiveness
For content that is as good as the Super Leeds, you need to tick the four boxes I've explored above. By creating high-quality, well-optimised content which meets the intent of a user's query and is relevant to your brand's expertise, you'll be best placed to compete in the fiercest battleground of them all, the search engine results page.