Written by Josh Westerman
Glastonbury – the festival of all festivals. After a fallow year, 175,000 music, arts and entertainment fans headed to Worthy Farm, excited to see the likes of The Killers, The Cure, Stormzy, Liam Gallagher and Kylie Minogue take to the iconic Pyramid Stage.
If, like me, you were one of the unfortunate ones who faced the wrath of See Tickets' forever-crashing website and didn't get tickets, you'll have probably (through gritted teeth) watched the coverage on the TV over weekend. But even the most eagle-eyed of viewer may have missed a performance on the Other Stage at 20:15 on Sunday evening which will go down in Glastonbury folklore.
Mandem like Dave
British hip hop singer, songwriter and Ivor Novello award-winner Dave – also known as Santan Dave – looked out to the crowd during his set, just before he was about to 'drop' his big tune 'Thiago Silva', named after the Paris Saint-Germain (PSG) and Brazilian footballer. But rather than rap the words on his own, he opened it up to the audience, asking if any of the on-lookers were sober enough to join him on the stage and give it a go.
Step forward Alex Mann: a 15-year-old donning a bucket hat and, most importantly, a PSG shirt with 'T. Silva, 2' on the back.
In case you missed, arguably, the moment of Glastonbury 2019, here's the video of young Alex taking to the stage with Dave to rap along to 'Thiago Silva'.
It's safe to say Alex absolutely smashed it out the ballpark, even to the amazement of Dave himself. But that was just the beginning of it. Thanks to the power of social media, Alex's performance has taken him to global stardom.
From the Other Stage to the world stage
Alex will have been on another planet of excitement on Sunday evening, and his story was set to be taken from the Other Stage, to the social stage. BBC 1Xtra tweeted about Alex's appearance with Dave after the performance on Sunday – a tweet that went truly stratospheric.
At the time of writing this post, the tweet had amassed almost 79,000 retweets and been liked by more than 264,000 users. But that was just the start. Whilst sitting in a Parisian boulangerie on the banks of the Seine, PSG captain Thiago Silva himself came across the video and decided to get in on the Twitter action.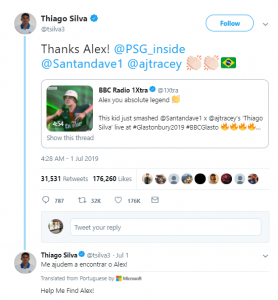 Silva shared the video with his 216,000 followers, thanking Dave and AJ Tracey (Dave's collaborator on the track), which was retweeted by 30,000 people and liked by another 175,000 people. He followed up with a request to "help me find Alex!", to which the newly-born Prince of Hip Hop cheekily replied himself: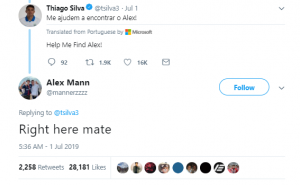 Since then, Alex now has 175,000 followers on Twitter, has appeared on Good Morning Britain to perform the now-iconic rap and he's signed up to appear at club nights across the country. At 15, my then-band were playing in front of 20 people in the local cricket club, and this guy has been able to take to one of the biggest stages in world music and has become an overnight sensation thanks to getting exposure across social media.
The power of social media
But what has helped this case of Glastonbury magic rise to such prominence?
Social media, of course.
The sheer scale of social sharing around this video has been huge. Even those who don't follow Santan Dave, Alex or Thiago Silva have had the video appearing on their feeds thanks to those who they are following sharing it. For example, BBC bigwig Gary Lineker shared a version of the video to his follower base of 7.3 million followers – and he wasn't the only big name to do so, making the potential reach of this video massive.
But none of this could have happened without social media. Back in the heyday of my musical career, peaking with a hometown gig in front of 150 people at Cookridge Village Hall in 2006, if I'd have managed to get on stage with a band of the time (I'm talking the indie era of Little Man Tate, Young Knives, Klaxons and Pigeon Detectives), the only people who would have seen it were probably those in attendance, and a select few if it was televised.
The story of Alex being on stage with Dave at Glastonbury has been made so more by social media. A 15-year-old boy's dreams of performing on stage has become a reality and, through being able to share the video across Twitter, he's now experienced what it's like to be one of his heroes. It's created a viral buzz across Twitter, and driven conversation and engagement with a piece of video content – something that's at the very heart of social media's purpose. It's a story made for social media.
The sceptics among us will say it was all staged, and that Dave already knew Alex could rap to 'Thiago Silva'. But Twitter has helped bring the highlight of Glastonbury to the masses – which I think is a well sick ting, bruh.