Written by Pete Finnegan
The countdown to Christmas is officially on. How do we know the festive season is here? Well the John Lewis and Partners Christmas advert has been released, so I guess that means we can get the tree and decorations up.
Once just part of an organisation's marketing mix, the Christmas advert has become an event in itself, with companies jostling for the best one. I mean come on, whoever thought we'd be seriously invested in the adventures of a carrot called Kevin?
Christmas 2019 is no exception as brands have pulled out all the stops to create your favourite advert. So, here it is. The big one. Here are the official Brand8 PR ratings of the Christmas adverts 2019 from some of the major players.
John Lewis and Partners and Waitrose and Partners – Edgar the Dragon
Where else to start but with the brand that is responsible for the advert phenomenon. This year's effort, the first in tandem with Waitrose, features an excitable dragon called Edgar and a little girl called Ava. Unfortunately for Edgar, when he gets excited, he breathes fire and around snow and flammable festive items it's not a good combination.
This advert features everything you've come to expect from a John Lewis ad – cute main character, an 80s rock track reworked to be a soft, slow acoustic jam performed by someone unexpected, plenty of snow and *spoiler alert*, a warm and fuzzy feeling.
As with previous adverts from the retail giant, you can also buy a whole range of Edgar-themed toys from John Lewis and the food featured in the advert from Waitrose.
If you haven't seen it yet (then where have you been?!) you can do so here:
Online reaction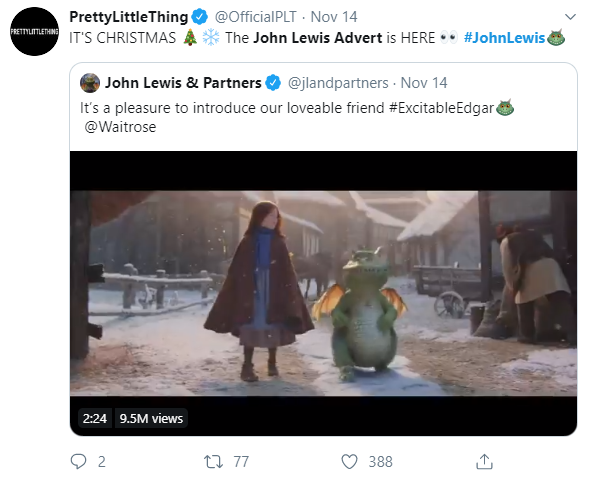 Our verdict – whilst not as good as previous entries, it's still a solid effort – 3.5 mince pies out of 5.
Aldi – Kevin the Carrot
Back in 2016 Aldi gave us a Christmas gift in the form of Kevin the Carrot. Four years on and he's still getting into all kinds of hijinks. This time he's captured by the Leafy Blinders (Brussel sprouts with flat caps), before belting out a Robbie Williams tune (sung by the superstar himself) in the guise of The Greatest Showman in a big top tent, joined by his family. Yes, you read that right.
Kevin has become a big deal for Aldi at Christmas, as the retailer is now selling Kevin merchandise. Items including plush toys, tree decorations, jumpers, mugs and wrapping paper are all available in-store. Good luck getting hold of certain items though as they sell out quick!
Online reaction
The advert itself didn't garner anywhere near the response that our friend Edgar did. However in true Aldi-style, they may have just 'won' the Christmas advert wars with this tweet.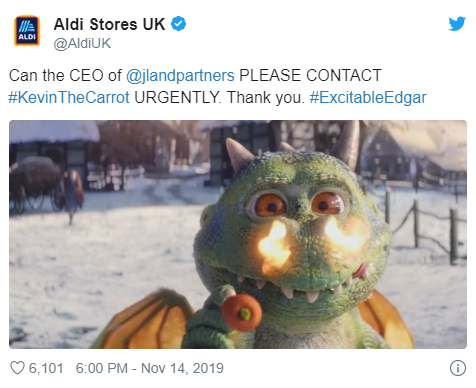 Our verdict – Kevin has really grown up in four years! Another cracker of a chapter of the story of our favourite Christmas carrot. 4 mince pies out of 5.
Walkers Crisps
Not a brand that you'd perhaps associate with Christmas, Walkers has entered the Christmas advert battlefield this year and its come armed with a superstar – Mariah Carey.
The singer's Christmas hit 'All I Want for Christmas Is You' turns 25 this year (yes, we feel old too) and Walkers has themed their ad around the song in one of the most humours entries of the year.
As the singer finishes filming a video for the song and finishes giving out presents to the crew, she soon becomes distracted by the last remaining bag of Walkers (complete with the limited-edition festive flavour, pigs in blankets). Trouble ensues as she goes for the bag at the same time as a crew member (dressed as an elf, because you know, Christmas) reaches for it too. Neither one wants to let go causing cringes across the set. Mariah then wins out by hitting a high note that packs a punch before then 'graciously' sharing a single crisp.
Online reaction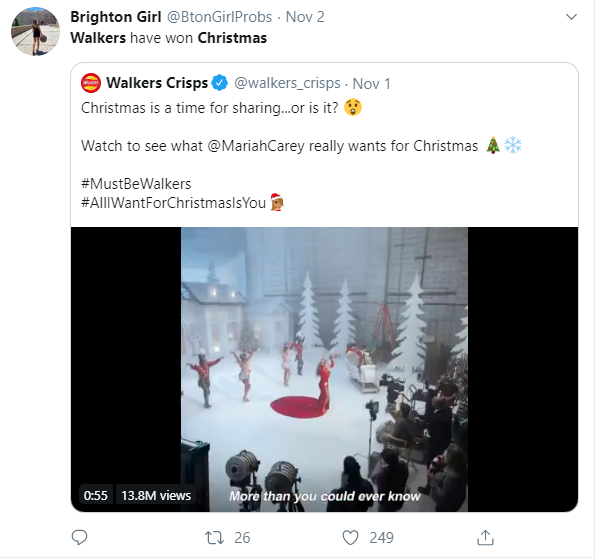 Our verdict – This is up there. Mariah is a Christmas legend and more than anything, it's very funny. 4.5 mince pies out of 5.
IKEA
IKEA has taken the idea of the festive advert and flipped it on its head to create this brilliant effort – a first for the furniture company.
Set in a family home that is looking a little 'tired' the twee ornaments start coming to life. In any other advert this is where they may start sprinkling a little festive magic throughout the living room, complete with a dose of snow. However, this is IKEA so things take a turn.
Voiced by grime legend D Double E, the ornaments and toys take their turn criticising the appearance in a rap. Lyrics include the lines "I must confess, this place ain't bless, this place is a mess/ This table is older than the pyramids, at least it's older than the mirror is." The D Double E rap has proved so popular that it's been released as a single!
Another factor in the success of the advert is that it embraces grime culture, something that is moving more towards the mainstream, as demonstrated over the summer with Stormzy headlining Glastonbury.
Online reaction


Our verdict – We love it. This deservedly gets 4.5 mince pies out of 5.
Sainsbury's
Unlike the other entries on this list, Sainsbury's has gone down the decidedly different route. Out are the cute CGI characters, humour and celebrity endorsements. In is an advert that feels almost Dickensian in the story it is telling.
Based around a young orphan boy, Nicholas the Sweep on Christmas Eve, 1869, the ad follows the boy and fellow orphans through a Victorian city. The boy is soon arrested after 'stealing' an exotic orange from the J Sainsbury stall (a not so subtle nod to the brand's history).
The boy is banished from the city for his crimes until he is rescued by a caring woman from the Sainsbury's stall who returns him to the city, where he promptly gifts the boys from his orphanage with an orange in their stockings.
Online reaction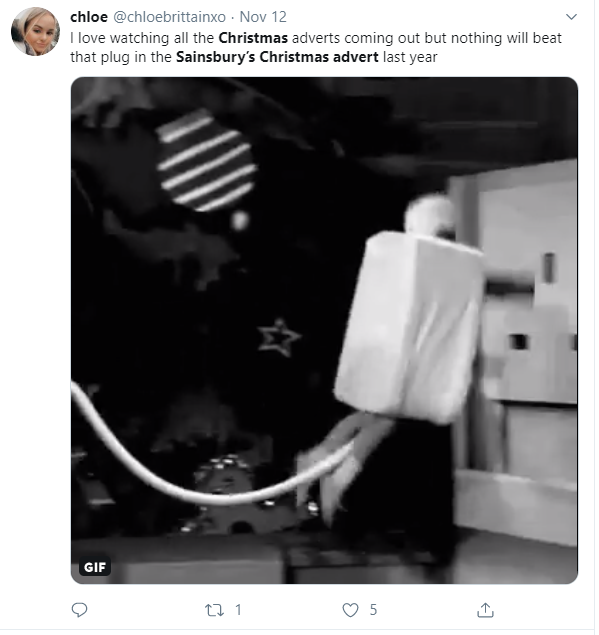 Our verdict – Compared to previous years and other entries, we can't help but think this all feels a bit twee… 2.5 mince pies out of 5.
So how do they stack up collectively?
There are, of course, plenty of other adverts around – honourable mentions to McDonalds, Very and Argos – but we wanted to give you a flavour of what's out there. we do the hard watching, so you don't have to (we're good to you like that).
The feeling this year is that there has been a noticeable step change in the approach to festive ads. Rather than sticking to tried and tested (unless you're John Lewis), brands are going out on a limb to do things a bit differently, yes Aldi with Kevin the Carrot.
Grime has been welcomed into the Christmas mainstream; humour has been embraced to its fullest and celebrities are getting involved but in a self-deprecating way. If this is a sign of things to come, then we welcome it with open arms.
Now someone pass me a mince pie!
Happy Christmas from everyone at Brand8 PR!